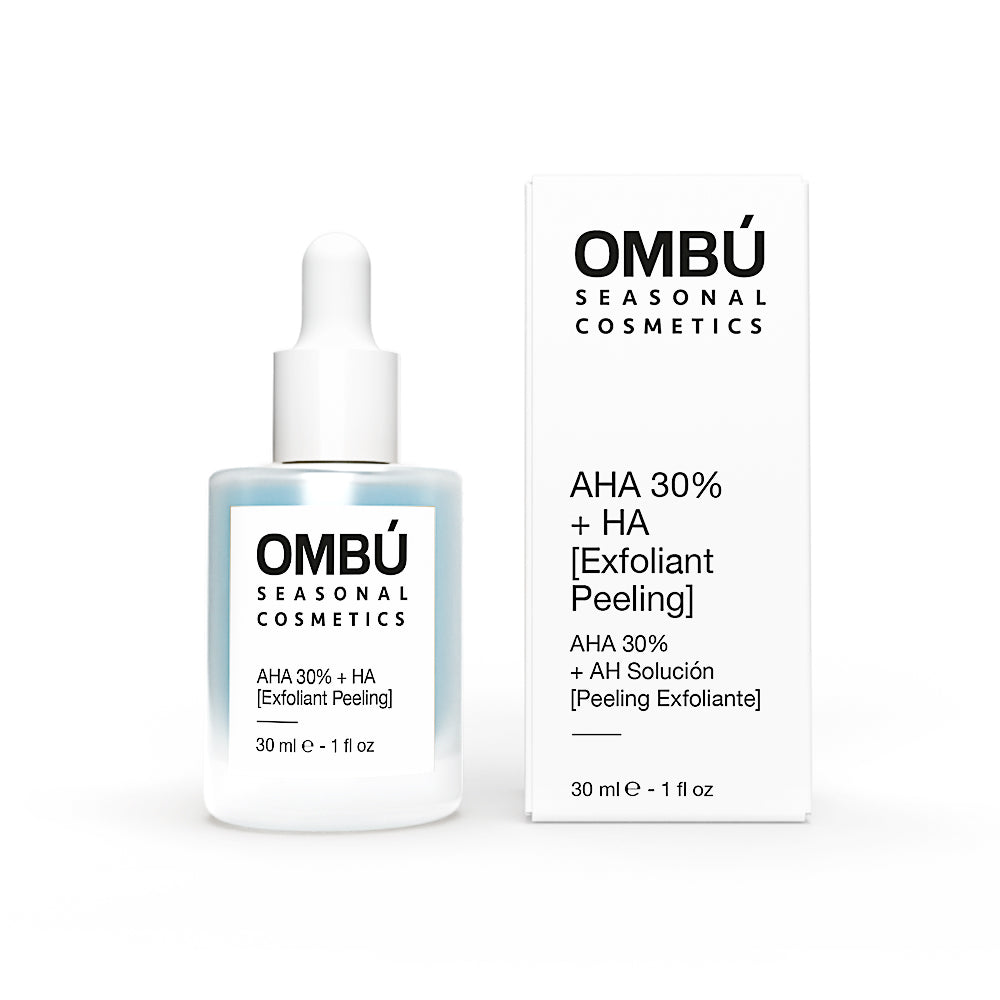 AHA 30% + AH 2% [Advanced Skin Renewal] | Exfoliant Peeling - 30 ml
Save 25%
Sale price

€29,99
Regular price

€39,99
(/)
---
Gelled solution based on 30% Alpha-Hydroxy Acids (AHA) + 2% low molecular weight Hyaluronic Acid (HA). //NEW FORMULA //
Instantly improves skin texture by minimizing and decongesting the appearance of pores. Eliminates acne marks and scars. Exfoliates the upper layer of the epidermis, which helps increase collagen and elastin production, reducing wrinkles and expression lines.
Mechanism of action:
Chemical Exfoliation: Alpha hydroxy acids are acidic molecules that have the ability to dissolve intercellular bonds in the outermost layer of the skin, the epidermis. This facilitates the removal of dead skin cells and promotes cell renewal.
Stimulation of Collagen Synthesis: The continuous use of alpha hydroxy acids stimulate the synthesis of collagen and elastin, which contributes to firmer and more elastic skin.
Clinical Benefits:
Improved Skin Texture: AHA peeling reduces the roughness and irregularities of the skin, leaving it smoother and more uniform. Helps unclog pores and reduce the appearance of blackheads and pimples.
Reduction of Wrinkles and Fine Lines: Regular exfoliation reduces the appearance of wrinkles and fine lines by removing damaged surface layers of the skin and stimulating collagen production.
Treatment of Pigmented Spots: Peeling lightens dark spots and pigmentation irregularities on the skin.
30ml | Glass bottle | Vegan | Not tested on animals | Non-comedogenic | Fragrance-free | Gluten free | Without alcohol
How to use:
Preparation
Before you begin, make sure your skin is completely clean and free of makeup, sunscreen, and other products. Wash your face with a gentle cleanser.
Application
Use a small, even amount of the product (usually a couple of drops) on the areas you wish to treat. Avoid the area around the eyes and lips, as the skin in these areas is more delicate.
Exhibithion time
Start with a 1-2 minute exposure time on your first application. With each subsequent use, you may increase the exposure time in 1-2 minute increments, but do not exceed the maximum recommended time of 10 minutes.
Rinse
After the specified exposure time has passed, rinse the product thoroughly with warm water. Make sure to completely remove the product from your skin.
Hydration and sun protection
Apply a gentle, fragrance-free moisturizer to soothe skin after the peel. Additionally, it is important to apply a broad-spectrum sunscreen with a high SPF the next morning and continue using it for several days, as your skin will be more sensitive to the sun.
Frequency
The frequency of use of a 30% AHA peel generally varies depending on your skin type and individual tolerance. It is generally recommended to use it once a week or every two weeks at first, then adjust based on how your skin responds. Do not use this product every day as it may be too harsh.
It is always advisable to do a sensitivity test on a small area of ​​skin before using the product on your entire face, especially if it is your first time using it. Additionally, if you experience excessive irritation or redness, discontinue use and consult a dermatologist.
This formula contains a high concentration of acids. Not recommended for highly sensitive skin, with eczema, irritation or any other dermatological problem.
Ingredients (INCI):
Water (Aqua/Eau), Glycolic Acid, Lactic Acid, Propanediol, Citric Acid, Sodium Hydroxide, Potassium Hydroxide, Sodium Hyaluronate, Hydroxyethylcellulose, Sorbitol, Phenoxyethanol, Ethylhexylglycerin, CI 42051.
_
This ingredient list is subject to change. Before use, consult the product label for the most accurate information. We only use ingredients with a proven track record of safety, effectiveness and sustainability.
Indications:
Use the product exclusively as indicated. External use. Do not eat. Do not use on damaged skin. Avoid contact with eyes and mucous membranes and in case of accidental contact, wash with plenty of water. Store in a cool, dry place, protected from heat and direct sunlight. Do not expose to temperatures above 30ºC. It is advisable to perform a sensitivity test before using any cosmetic product. Can be combined with other products. Keep out of the reach of children. If any type of irritation occurs, discontinue use and consult a dermatologist.
Contact of the product with the skin should be frequent and of limited duration. Do not use after performing a chemical peel. Do not combine at the same time with other strong acids.
Not suitable for highly sensitive skin, with eczema, irritation or any other dermatological problem. Its use is not recommended during pregnancy and lactation.
This product contains acids that may increase your skin's sensitivity to the sun and the possibility of sunburn. Wear sunscreen, protective clothing, and limit sun exposure while using this product and for one week after your last application.
Quality, Seasonal and Ecological Active Principles:

In all our products, we pursue a perfect balance between science and nature. Each formula is carefully designed, using only active ingredients with proven effectiveness, which translates into personalized solutions to achieve exceptional results. We collaborate closely with certified suppliers, closely supervising every stage, from cultivation to production of the final product, ensuring that each ingredient meets our rigorous quality standards.

Made in Spain:
At Ombú, we manufacture all our products in Spain. We have our own laboratory where we design, produce and export globally.

Commitment to Animal Ethics - Cruelty Free and Vegan:
We comply with European regulations (REGULATION (EC) No 1223/2009) by not testing on animals. Additionally, we ensure that our raw material suppliers share this ethical commitment. Our products are 100% free of ingredients of animal origin.
How much do shipping costs cost me?

..


At Ombú Cosmetics we give you free shipping costs for all orders you place with an amount greater than 20 Euros.

Peninsula - €3.95. Free shipping from €20
Canary Islands - €3.95. Free shipping from €20

Balearic Islands - €9.99. Free shipping from €39

__

How long will it take for my order to arrive?

..

Peninsula - Delivery in 24-48 business hours.

Balearic Islands (Mallorca) - Delivery in 48-72 business hours.

Balearic Islands (other islands) - Delivery in 72-96 business hours.

Canary Islands (Gran Canaria and Tenerife) - Delivery in 24-48 business hours.

Canary Islands (other islands) - Delivery in 72-96 business hours.

All our shipments are quickly prepared before 12 noon and sent safely. Orders placed after the checkout time are shipped the next business day. To know when your order is shipped, keep an eye on your email inbox. We will send you a shipping confirmation of your order and you will also receive an SMS from the logistics company indicating the estimated delivery date. On weekends or holidays, shipments are handled the next business day. Delivery times depend on the destination area. Shipments are not made on Saturdays, Sundays or holidays, but on the next business day.

__

How can I track my shipment?

..OMBU SEASONAL COSMETICS

As soon as your order leaves our logistics center, you will receive a shipping confirmation email. You can track your shipment using the link you will find in the email. You can also track it using the SMS that our logistics company will send you. If you do not receive the tracking, you can request it directly from us at hello@ombucosmetics.com

__

What happens if my delivery address is incorrect?

We recommend that you check the address indicated when placing your orders to ensure that the information is correct and complete, since it is not possible to change the address once the shipment has already been made without generating an additional shipping cost. If you detect any incorrect information, please contact nosotr@sa

hello@ombucosmetics.com

as soon as possible.

__

What should I do if I am absent on the delivery day?


A first delivery will be made to the indicated shipping address and if you are absent at the time of delivery, the courier will try to leave a notice in the mailbox.

After this first delivery attempt, the delegation that distributes your area will try to contact you to arrange a second delivery. If you are also absent during the second delivery, the order will remain at the branch in your area so that you can pick it up at the agency.

If for some reason they have not been able to contact you to arrange delivery, you can write to us at

hello@ombucosmetics.com

so that we can provide you with contact information or help as necessary.

__
You can return the products you want from your order within 15 calendar days from the day you receive your purchase and we will issue you a refund.

__

What happens if the product is defective or does not match the purchased reference?

Then we will take care of the entire process. We will collect the products and proceed to manage the incident. Contact our customer service team at hello@ombucosmetics.com within 24-48 hours of receiving your order and we will detail how to make the return in a very simple way.

__

Have you changed your mind about your order?

If you have changed your mind about your order, you will have to take care of sending it to us. The products to be returned must be in the same condition in which they were received; unopened and with the original packaging and box. Once we receive the returned products, we will check that everything is correct and we will contact you to confirm that the refund has been processed. We will refund the entire purchase except shipping costs. Send an email to hello@ombucosmetics.com, our customer service team will guide you on how to do it.

__
AHA 30% + AH 2% [Advanced Skin Renewal] | Exfoliant Peeling - 30 ml
Sale price

€29,99
Regular price

€39,99
Choose options